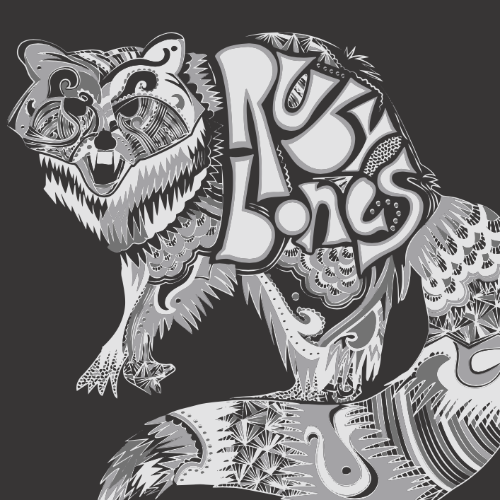 Ruby Bones
Artist Bio
Ruby Bones was at a precipice. Did they need to write a record lamenting the current doom and gloom of the world? To highlight the never-ending news, the feelings of being stuck inside? Or did they want to write an album for the aftermath - a party record for their friends to rage to.
They chose the latter.
Paying tribute to all their favorite indie rock bands and instilled with youthful nostalgia, Laser Tooth Tiger merges overdriven guitars with classic rock riffs and an underlying sense of adventure. It's a record detailing the trials and tribulations of being young while reaffirming that it's all worth it and you're going to be just fine.
Opener 'Tired Eyes' explodes with a chorus belting, "I don't know why you stay awake to stay alive // In the dark of night, all you've got are tired eyes." It's purposefully anthemic, an ode to college basement shows and galavanting with all of your friends before the cops show up.
"I wanted the songs to tell more of a story this time around; to breathe more than they've done in the past," explains songwriter Chris Fox.
On the face, Laser Tooth Tiger centers on getting back on the horse after a rocky relationship, but it's more about getting up and moving forward as a person. This holds true on outings like 'Press Rewind,' a song detailing a missed romance due to outside circumstances, and yet instead of lamenting what could have been, ends on a high note – the sounds of supportive friends eclipsing any lingering sadness.
"Oh it's how I came to slowly realize // nothing's like a future looking bright"
Meanwhile, single 'Drink All Night' comes off like a barn burner battle cry, but closer listening reveals a darkness on the edges. There's always a bit of shadow with the light, and the band worked to counter it with a more hopeful song like 'Don't Lose Your Head,' finding the sweet spot between sentimentality and sincerity.
"And you know, sometimes it gets so tough // when you fall through the sky, straight through the eye // of some beckoning beast that you can't get behind
Well don't lose your head, oh darling, darling don't // Go on and sleep through the morning, then call me up"
Directed by Brian Lonano, the song's award-winning music video nails the good vibes the band wanted to give off, and matches the fun-loving nature of the album perfectly. Fiery and anthemic, the rest of Laser Tooth Tiger combines harmonized lead guitars (thanks Lizzy) and shout-along choruses (thanks Bruce) with a summer-y mantra best summed up on the single 'Rooftops.'
"I remember oh we were so young, carefree // On the rooftops how we used to be"
"It's so easy to let the bad get you down and to stay in that mind space, but there's so much life to live once you snap out of it. Having been there, we hope this record can be that snap for someone," says Fox. "It's all worth it, and you're going to be just fine."
Artists' Cassettes