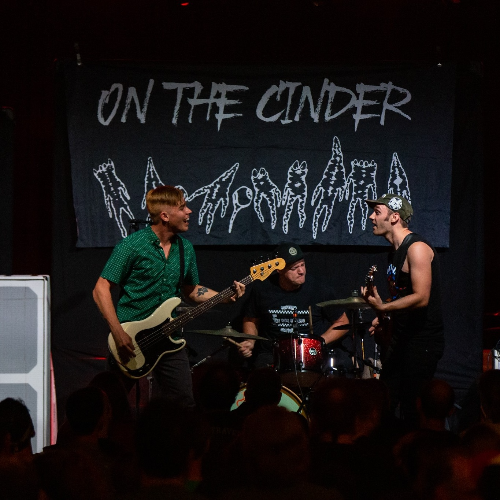 On The Cinder
Artist Bio
Buffalo, NY's On The Cinder announce 'Sedentary Escape,' a fierce, high-powered romp overflowing with intense passion and pop sensibilities set for release Oct 8 on Flower House Records.
With lyrics ranging from celebration and victory to heartbreak and anguish, Mike Jacobs (bass/vocals), Jason Wright (guitar/vocals), and Tyler Rzemek (drums) ended up with a concept album about breaking away from a mundane and miserable life with the aid of escapist media. The songs' perspective oscillates between that of the narrator's real life experiences and the character version of the narrator as they dive deep into fantasy.
The band had the following to say about the creation of the new release:
"We were writing our third LP when the pandemic hit and the Great Pause began. And like everything else, we put the album on hold to write a new project that was tonally dynamic and to express a more complicated narrative than we've tried before. The three of us committed to a writing exercise that saw lyrical content coming from each of us and some bizarre musical references to make a diverse batch of songs that tell a cohesive story that is meant to be played straight through. The whiteboard in the practice space was a disaster. There were meticulous arguments over word choices. But we took the time to challenge ourselves to be more personal in ways we'd never been comfortable enough to do before."
Artists' Cassettes