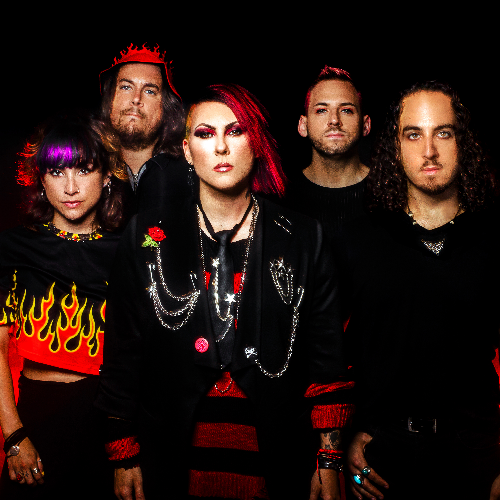 KingQueen
Artist Bio
KingQueen is a LA based pop-rock band. The band was formed by lead singer Ina aka Sabrina Petrini and consists of Adam Gimenez, Brandon Valerino, Jake Absher and Ella G. Burgos. KQ's sound is best described as energetic and edgy, delivering sing-along choruses and vulnerable yet self-empowering lyrics.
KingQueen has been seen on multiple platforms such as MTV, VH1 & OutAt TV. They've been performing live at The NAMM show, American Music Awards, the Main Stage at San Francisco Pride, Orange County Pride & Long Beach Pride, playing with Quiet Riot at San Bernardino Fair, The Viper Room, DTLA Proud, The Troubadour opening for Kat Cunning and Jax, LA Fashion Week, The Whisky a Go Go, The House of Blues opening for Steel Panther, The Out At The Fair tour & more.
In the end of 2020 KQ released their single and music video "Roller Coaster" which earned a nomination for 'Rock song of the year' at the 2021 Hollywood In Media Awards, 'Best Music Video' at the Munich Music Video Awards and won the 'Best Band' award at the International Music Video Underground awards in Paris.
In the beginning of 2021 KingQueen released their single "Live It Up". The song had it's radio debut on 95.5 KLOS Heidi and Frank Show, quoting Heidi "They're just the full package". The music video came out in June of 2021 and was nominated for 'Best Music Video Of The Year' at the QueerX Festival, Ojo Movil Fest & Noble International Film Festival And Awards!! In 2021 KQ also got endorsed by Eargasm and Xvive Audio.
KingQueen recently joined the roster of 'LA Rock Collective'. The first event was held at Hard Rock Cafe in Hollywood and was covered on Spectrum News. KQ spent the summer of 2022 on their Golden State Tour touring the West Coast promoting their self-titled EP "KingQueen". They are releasing their next single "Burn This Motha" on Dec 9th. "Burn This Motha" is a protest anthem speaking against establishments who don't believe equality should exist for everyone.
Artists' Cassettes